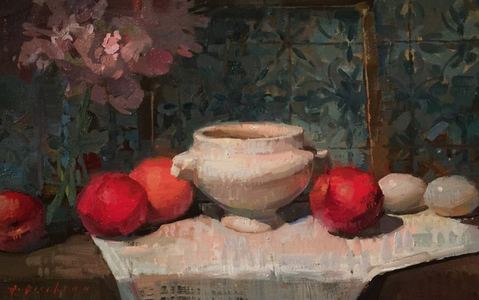 OIL PAINTING: LIGHT & FORM
October 19-20 in Hood River, Oregon.
We will address the fundamentals of light and form, how light describes form and reveals color, and how beautiful color can strengthen your work. Still life the first day and a model or still life on the second. Lessons and practice are focused on using color and value to describe form. Certain principles apply whether you're painting an orange, a vase, or a head; learn to understand form and how to describe it in the language of paint.
SKILL LEVEL Appropriate for all levels; true beginners are advised to familiarize themselves with tools and materials, including french easels, before class starts.
$250
Click here to register by email.
- - -2019 2019 2019 2019 2019 2019 2019 2019 2019 - - -

GET YOUR COLOR TO SING!
4 Day Workshop at Warehouse 521 in Nashville
Wednesday-Saturday, June 19-22, 2019
$575 includes model fee
What makes for really great color in a painting? How do we translate what we see into an appealing color composition? If your painting has beautiful color and beautiful brushstrokes, it will contain a beauty that can override weakness in other areas. This workshop gives oil painters the chance to better understand practical color problems. Learn your eye's bias and how pre-mixing can set you up for success. You'll be given several tools that you can use to continue your color study after the workshop. We'll do plenty of exercises and paint directly from still life setups. Color studies with demonstration and exercises with a live model on the last day.
Register at
www.warehouse521.com
---
If you would like to host a workshop in your locale, please
email me
.